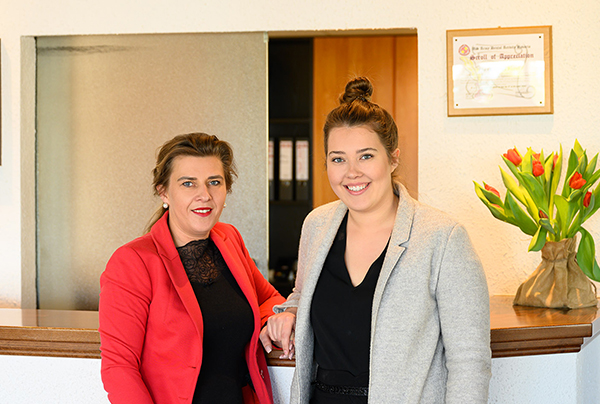 Our family-run Olympia Hotel & Restaurant is located on the grounds of the shooting range where the Olympic Games took place in 1972. Of course, not only sports enthusiasts are welcome on this historic site, but also guests who have nothing to do with the Olympic disciplines of shooting. Nevertheless, the topic of the Olympic Games can be found throughout the house. Our guests are also welcome to take a shooting course at the Bavarian Sports Shooting Association. Just ask us about these and other possibilities and offers to explore the beautiful city of Munich.
Our lobby has inviting areas to linger and meet friends. WiFi is available free of charge. In summer you can just meet in our beer garden and enjoy the tranquility of the facility. Your four-legged friends are also very welcome here.
All our rooms have been completely renovated in 2021, updated to a modern level and newly furnished.
In the hotel lobby we have a cigarette vending machine as well as a vending machine for hot drinks over which you can help yourself in times when our bar or restaurant is closed. During opening hours, we are also happy to serve you in the hotel lobby with chilled lounge music.
At the reception you can purchase hygiene articles (shaving set, bathrobe, sewing kit, shoe shine sponge, toothbrush set) for daily needs. There you can also borrow an iPad and an umbrella for your stay.
Central location only 25 minutes to Munich city center and 20 minutes to Munich Airport. We have ample free parking also for buses. Tour groups expressly welcome. Close proximity to the B13 and A99 highway. Only 5 minutes away from the Allianz Arena – home of FC Bayern Munich.
Follow us on our Instagram account olympiahotelmuc and on #olympicstay.
Frühstücksbuffet
Wir bieten von 6:00 Uhr bis 10:00 Uhr ein ausgiebiges, international ausgerichtetes Frühstücksbuffet an.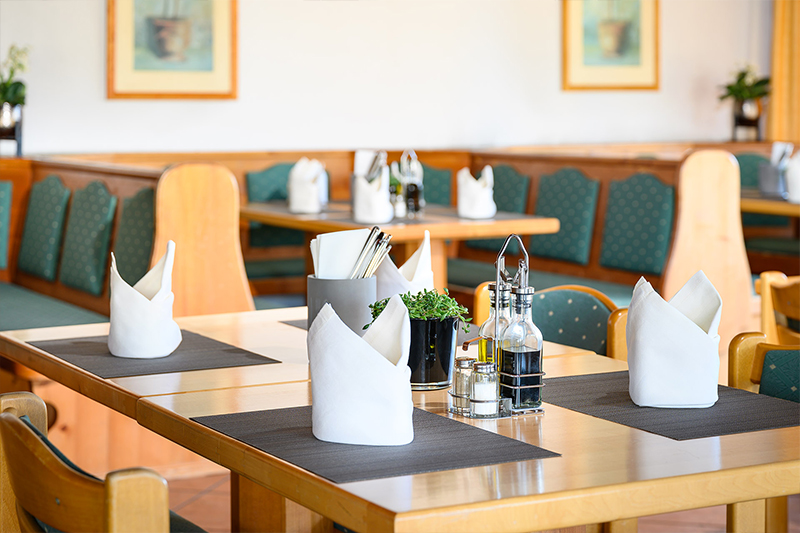 Mittagsessen
In der Zeit von 11:30 bis 14:00 Uhr servieren wir in unserem Restaurant ein Mittagsessen. Sie können von unserer Speisekarte oder von unserer wöchentlich wechselnden Wochenkarte wählen.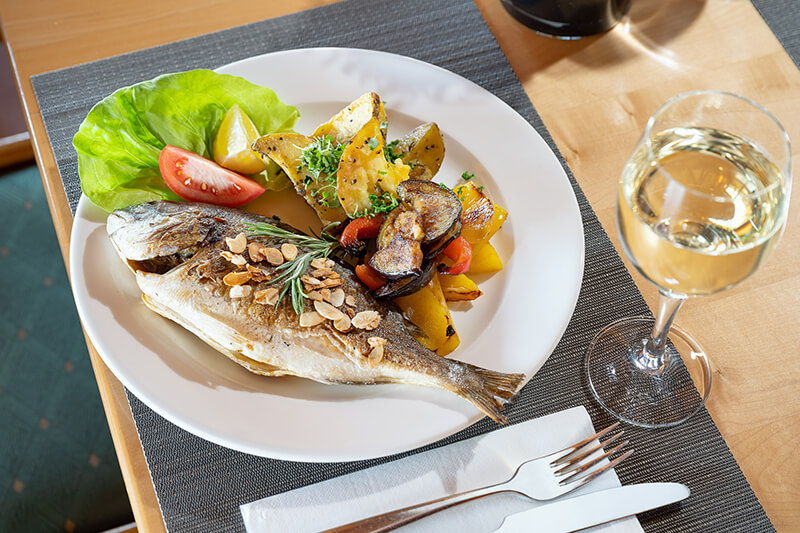 Abends
Am Abend ist unser Restaurant von 17:00 bis 23:00 Uhr (warme Küche bis 22:00 Uhr) für Sie geöffnet und wir servieren Ihnen à la Carte oder auch unser Wochenmenü.
Unser gastronomisches Konzept ist geprägt von frischen Produkten, die wir von lokalen Lieferanten beziehen. Dabei achten wir besonders auf Nachhaltigkeit und den Einsatz von Bioprodukten. Wir verarbeiten und servieren unseren Gästen überwiegend saisonale Produkte aus der Region. Dabei haben wir den Anspruch Ihnen ein unvergessliches Geschmackserlebnis zu bieten, das Ihren Besuch der wunderschönen Landeshauptstadt München – egal ob beruflich oder privat – abrundet ohne dabei den Preis aus den Augen zu verlieren. Im Sommer lädt unser gemütlicher Biergarten zum Verweilen ein.

OlympicShooting Experience
Unser Angebot für Sportbegeisterte, die schon immer mal eine olympische Schießdisziplin ausprobieren wollten und gleichzeitig die schönste Stadt Deutschlands erkunden wollten. Wir bieten Ihnen zwei Übernachtungen inkl. Vollpension und eines Schießkurses in einer Olympischen Disziplin Ihrer Wahl. Fragen Sie uns einfach nach möglichen Terminen für die unterschiedlichen olympische Schießdisziplinen. Dieses Angebot richtete sich sowohl an Anfänger als auch an Profis, die noch etwas dazulernen wollen. Wir bieten Kurse auf olympischen Niveau an.

Fun with Ninepin Bowling
Unser Angebot für Sportbegeisterte mit Lust auf einen Kegelabend. Wir bieten Ihnen eine Übernachtung inkl. Vollpension und er Nutzung der Kegelbahn am Abend,wobei wir Ihnen das Abendessen an der Kegelbahn servieren, damit Sie den Spaß am Kegeln nicht unterbrechen müssen. Ideal um sich mit anderen sportlich zu betätigen und viel Spaß zu haben. Gerne machen wir auch Angebote für Gruppen. Fragen Sie uns nach den Möglichkeiten.